Zephyr Marlborough Wine Tasting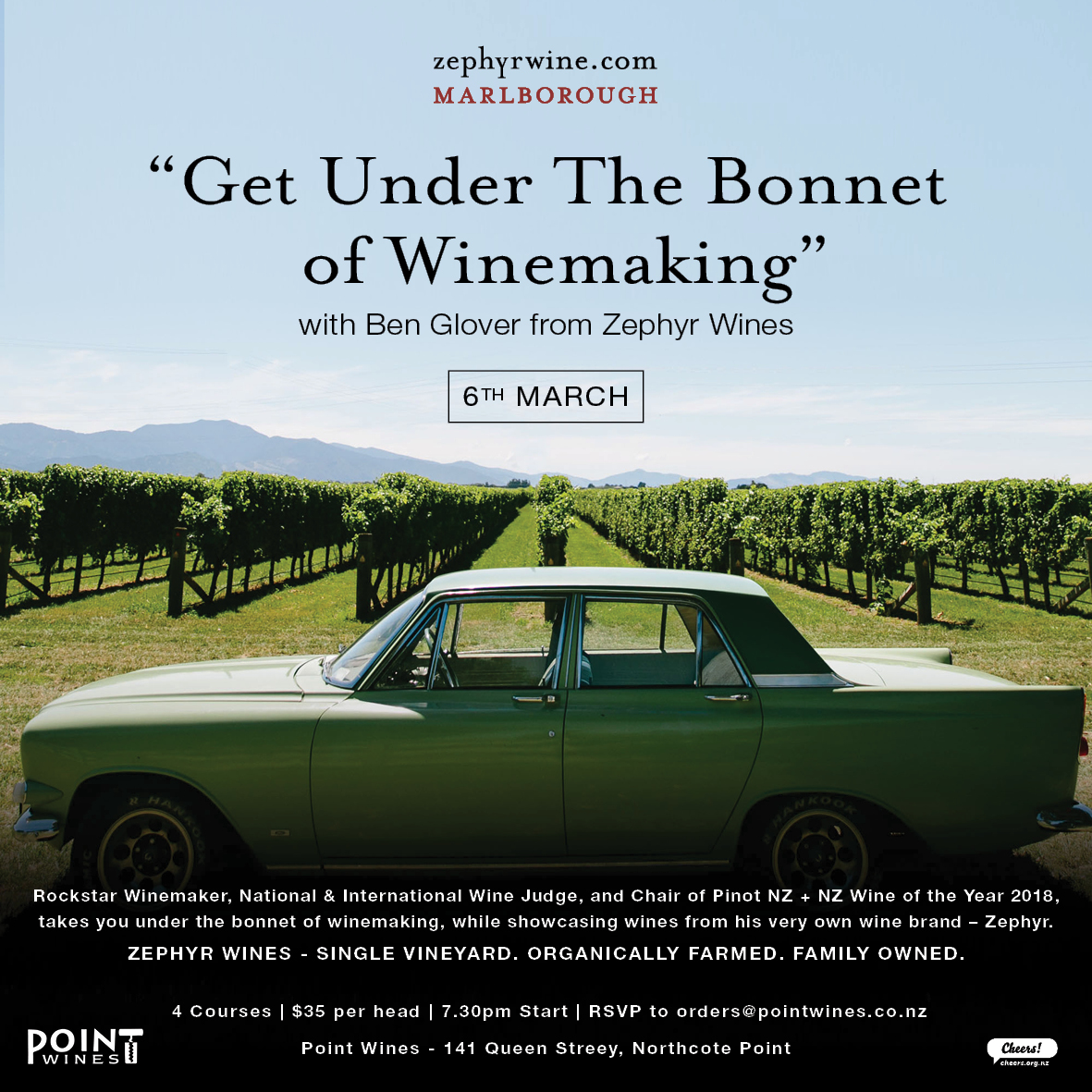 Zephyr Marlborough Wine Tasting
Next Wednesday at Point Wines, we welcome back Ben Glover, winemaker at Zephyr wines.

Zephyr is the brand of Glover Family Vineyards, the wine venture of Ben's parents, Owen and Wendy Glover who established the vineyards in the Dillons Point sub-region in Marlborough in 1985.

Up until 2007 all the fruit was going into some of Marlborough's top labels but Ben had always wanted to take the best of the fruit from the family vineyards and make their own wine. So in 2007 the Zephyr wines were born with a focus on delicious and vibrant aromatics (Perfect on a hot summer day! Yum!).

You may not have heard of Zephyr before, however Ben Glover has quite an impressive wine CV.

He is one of the most talented and respected winemakers in the country with a deep love and understanding of Marlborough, where he was born and bred.

Ben until recently was Group Winemaker for Accolade New Zealand, prior to that he was Chief Winemaker and Director of Winemaking for internationally acclaimed brands such as Mud House, Wither Hills, Lindauer, Huntaway and Corbans. He also held the prestigious role of Chairman for world renown Pinot Noir 2017 conference held in Wellington, the world's largest and most prestigious Pinot Noir event held every four years. He is also a national and international wine judge with a ridiculous amount of awards under his belt. He spent several years following the harvests around the world always coming back home where his heart has always been. He believes in the 'sense of place', terroir or 'turangawaewae' as he likes to call it.

His wines are pure elegance, with great purity and texture. A class act! And you wouldn't expect less from someone with such pedigree and over 25 years of experience.

He is also as the French say a 'bon vivant' who loves sharing not only his wines but also knowledge and stories. A perfect combination for an entertaining and educational tasting.
sold out